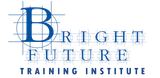 About Bright Future Computer Training
Who We Are?


BRIGHT FUTURE is a leading training institute in DUBAI. Located in the Heart of Dubai with permission for training on different areas including Computer Science, Management, Graphic designing, Accountancy, Languages, Soft skills and professional technical programs. The Institute is approved from Knowledge and Human Development Authority (KHDA - Dubai Government) and affiliated with various international bodies.

BRIGHT FUTURE ushers every human being to acquire the knowledge,skills, attitudes and values necessary to shape up a promising and sustainable future. We recognize our vital role in delivering a quality of training for everyone in the UAE, both now and the generations in store. Bright Future is committed to culminate the wished results with a perfect blend of senior educationists and young breed of energetic trainers on its faculty. We encourage the staff to adopt innovative and interactive methods of training in order to make the institute an example of posterity.