Updated on 26 November, 2017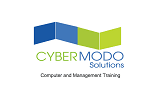 Course details
Give your workforce the knowledge and skills they need to meet your strategic goals - with a full suite of software training and education courses and certifications designed to help you maximize the power of your SAP solutions. We can help you create a comprehensive training plan, manage your talent, empower end users with live courses - and drive greater proficiency across your organization.
What's the purpose of SAP training?
SAP customizes versions of its Real-time platform for a wide variety of industries. SAP training familiarizes students with the underlying technology that powers all of the company's solutions. Training also enables professionals to use their career experience as a foundation for deployment, management, and maintenance of ERP systems.
Why Cyber Modo?
SAP Training End User and Implementation all modules
KHDA approved Certifications
Course Material Provided
30 hours duration (equivalent to 6 months working on SAP Software)
A practical orientated course with 80% practical
Affordable Fee
Experienced and Certified Trainer
Flexible Timings
About CyberModo
CyberModo Solutions is a Training institute specializing in academic and vocational training and certification.

Students can choose from multiple Educational and Certification courses that will cover the most up-to-date information needed to be successful in today's organizations.

CyberModo provides clients with the skills they need to maximize their investment by offering them total training solutions.

CyberModo instructors are highly experienced and skilled in multiple fields, drawing upon real-world scenarios to ensure students learn the most relevant and applicable skills.
At CyberModo, we will work with you to help identify the courses that will deliver you with the best results!
See all CyberModo courses
SAP Related Questions
Answered // 4 Responses //Oct 13, 2016// SAP

Answered // 3 Responses //Dec 3, 2016// Human Resources, SAP

Answered // 3 Responses //Feb 25, 2018// Logistics and supply chain, SAP

Answered // 2 Responses //Aug 16, 2017// SAP, IT, Computing and Technology
Enquire about this course
You may add more courses here,
your list will be saved.