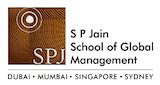 Duration / Course length:

1 Year

Accrediting country:

Australia
Course details
Course Overview:
S P Jain's MBA-Global (GMBA) is a uniquely crafted, 12 month program requiring students to study in all 3 campuses in Dubai, Singapore and Sydney. They are thereby immersed in the business practices of each city, where they work with local companies and have workshops and site visits related to the political, cultural and business environment. This makes students more adaptable to today's business challenges, more open-minded to living anywhere, and more adept at working with people from different cultures.
The MBA-Global (GMBA) program is designed to help students become strong decision makers through daily application-based work requiring them to decide how to respond to ambiguous situations and/or deal with incomplete information. As a result, they are able to have valuable impact in their organisations from the moment they join.
S P Jain's GMBA program has been ranked in top 1% leading Business Schools by Financial times in 2011 & 2012 and also ranked in the World Top 20 Business Schools by Forbes, USA in the Best International Business School Rankings 2013.
Example of core and elective modules available?
Logistics, Investment Banking, Marketing , I.T Management
Who should take this course?
Students with 3.5 - 8 years of work experience
Benefits of the course:
The SP Jain MBA- Global (GMBA) is ideal for the needs of the UAE market. Since the UAE is multi-cultural and international country, conducting business and trading with countries around the world, the multi-campus, immersive education our students undertake makes them particularly well-qualified to understand and succeed in the UAE. The school provides students with placement in top companies across the globe, and has over 2000 successfully placed GMBA alumni.
Testimonial of former student:
SPJ has been a truly global experience and I am proud to have partaken in such an experimental and novel concept for management courses. If you look at top universities in USA, Europe, etc., almost all are at least considering the idea of a one-year program instead of two, as well as slowly realizing that the world is growing more and more connected and that living in other regions is a huge part of learning about the world. We have taken courses from faculty from many countries, continents, with different viewpoints and teaching styles.
Michael Shinzaki, Class of 2014
Course Location
About S P Jain Global School of Management
Key Facts
Year opened: 2004
Number of postgraduate students: 4000 alumni, 500 active students per year
Number of staff: 300
Latest rankings:
Top 100 by The Economist Full-Time MBA Rankings (2015)
Forbes (USA) Ranks S P Jain #10 in the World, Best international one-year MBAs 2015-2016
Forbes (USA) Ranks S P Jain #1 in Dubai, #10 in the World, Forbes Best International Business School Rankings 2013-2014
Financial times (UK) Ranked S P Jain in the Top 1% Business Schools in the world in 2011 & 2012
Awards:
S P Jain won the coveted Asia's Best Business School Award in 2010.These awards were conferred by the CMO Asia
Flagship Postgraduate courses:
Global MBA and Master of Global Business, that are multi-city programs with 3 semesters, 1 of each in Dubai, Singapore & Sydney
About the Institution:
S P Jain School of Global Management (S P Jain) is driven by its mission of crafting 21st century business leaders. With international campuses in Dubai, Singapore and Sydney, S P Jain has established a strong foothold in the Asia Pacific region.
S P Jain requires all its full-time students to study in all 3 campuses. This gives the School's undergraduate and postgraduate students direct experience of three very different cultural and business environments. In each city, students have the unique opportunity to interact with local industry experts, engage in projects with top multinationals and experience diverse cultural environments through structured global immersion activities.
Accreditation and Licensing:
S P Jain is registered as a Higher Education Provider in Australia. Upon graduation, students receive a degree conferred by S P Jain School of Global Management, Australia. S P Jain's world-class business courses are accredited by the Department of Education/Tertiary Education Quality and Standards Agency (TEQSA), Australia, and licensed by the Council of Private Education, Singapore, and the Knowledge and Human Development Authority, Dubai.
See all S P Jain Global School of Management courses
You may add more courses here,
your list will be saved.