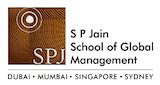 Duration / Course length:

16 Months

Accrediting country:

Australia
Course details
Course Overview:
S P Jain's Master of Global Business (MGB) is a uniquely crafted, 16-month program (including a 4-month internship) specially designed for graduates with little or no work experience to give them knowledge and skill-sets required for a great career in global business. Graduates are offered full-time placements through the college on completion of the program which is conducted in S P Jain's campuses in Dubai-Singapore & Sydney though a unique tri-city model. This course is for students that have 0-3 years work experience.
Example of core and elective modules available:
Logistics, Investment Banking, Marketing , International Business
Who is this course for?
Students in the age group of 21- 25, who have less than 3 years of work experience.
Course Benefits:
A 4-month internship is a compulsory requirement towards the end of the program. Students have the option of converting the internship into a full-time job. If not the college still guarantees placement for students with a GPA of 3 out of 4 and above. After rigorous training in 3 world class cities during the course of the program, the students will display quintessential qualities as required by leading corporate. Companies in the GCC region today need these young employees who are ready to offer solutions to complex business situations, and that is what S P Jain excels to teach these young minds much earlier.
Testimonial of former student:
"Ever since I began working, I have been concomitant with the field of finance. Being a Chartered Accountant gave me a better understanding of the world of finance, but better was just not enough. When I chanced upon S P Jain's MGB program offering a specialization in Investment Banking & Wealth Management, I realized that the best was not far away. Having completed the academic portion and pursuing my internship with an investment bank in the Corporate Advisory space, makes me well comprehend the way my learning lived at school. It was so resourcefully practical. All the theories/models/ideas taught in class are of great use in the real world of corporate boardrooms. In addition, the way of thinking and cultural acceptability encouraged throughout the program, especially through subjects like Global Business Environment/Strategy paved a great way for us to appreciate and shadow the dynamics of this globalised world."
Prakarsh S. Jain, Class of 2013
Job roles this course is suitable / will prepare you for
Designed exclusively for graduates with little or no work experience, the program trains you to appreciate and adapt to different business environments, cultures and market conditions, preparing you for a lifetime of decision-making and leadership.
Course Location
About S P Jain Global School of Management
Key Facts
Year opened: 2004
Number of postgraduate students: 4000 alumni, 500 active students per year
Number of staff: 300
Latest rankings:
Top 100 by The Economist Full-Time MBA Rankings (2015)
Forbes (USA) Ranks S P Jain #10 in the World, Best international one-year MBAs 2015-2016
Forbes (USA) Ranks S P Jain #1 in Dubai, #10 in the World, Forbes Best International Business School Rankings 2013-2014
Financial times (UK) Ranked S P Jain in the Top 1% Business Schools in the world in 2011 & 2012
Awards:
S P Jain won the coveted Asia's Best Business School Award in 2010.These awards were conferred by the CMO Asia
Flagship Postgraduate courses:
Global MBA and Master of Global Business, that are multi-city programs with 3 semesters, 1 of each in Dubai, Singapore & Sydney
About the Institution:
S P Jain School of Global Management (S P Jain) is driven by its mission of crafting 21st century business leaders. With international campuses in Dubai, Singapore and Sydney, S P Jain has established a strong foothold in the Asia Pacific region.
S P Jain requires all its full-time students to study in all 3 campuses. This gives the School's undergraduate and postgraduate students direct experience of three very different cultural and business environments. In each city, students have the unique opportunity to interact with local industry experts, engage in projects with top multinationals and experience diverse cultural environments through structured global immersion activities.
Accreditation and Licensing:
S P Jain is registered as a Higher Education Provider in Australia. Upon graduation, students receive a degree conferred by S P Jain School of Global Management, Australia. S P Jain's world-class business courses are accredited by the Department of Education/Tertiary Education Quality and Standards Agency (TEQSA), Australia, and licensed by the Council of Private Education, Singapore, and the Knowledge and Human Development Authority, Dubai.
See all S P Jain Global School of Management courses
You may add more courses here,
your list will be saved.