Updated on 06 August, 2017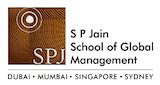 Duration / Course length:

18 Months

Accrediting country:

Australia

Accrediting body:

TEQSA
Course details
Course Overview:
The only Business School in the UAE to be Ranked by Forbes USA (2015).
Blended-learning that ensures effective work-life balance.
Five cross-functional, application oriented simulations - the first of its kind in the UAE.
Industry oriented, contemporary curriculum.
Maximum return on investment.
The S P Jain Advantage - Rapid Career Progression and Rewards.
Example of core and elective modules available?
Marketing, Finance, Operations Specializations
Who is this course for?
Working Professionals in the UAE with 3-25 years of work experiences
How will I benefit from taking this course?
Promotions, Multiple Salary increases and the course focuses on preparing students to take on top leadership roles or even become entrepreneurs. A wide variety of in-depth knowledge on general management subjects are provided
Entry requirements:
Minimum 3 years work experience & Bachelors Degree

Testimonial of former student:
"The experience at S P Jain was unparalleled in terms of the changes to my thought process brought about through persistent out-of-the-box thinking coursework. The caliber and dedication of my peers made me work harder at becoming a better version of myself. The faculty are absolutely fantastic with their enriching knowledge and experience. The faculty are absolutely fantastic with their enriching knowledge and experience. The subjects taught ensured that I graduated with a well-rounded understanding of the many facets of the business world. It is also where I founded the S P Jain Toastmasters Club - which resulted in an explosion in terms of my abilities to speak publicly, interact with people and network. S P Jain has definitely made an immeasurably positive impact in my life."
Cheryl Pinto
Class of 2008
Assistant Vice President-Unit Manager-Sales and Business Development
Abu Dhabi Commercial Bank
Job roles this course is suitable / will prepare you for
The Executive MBA (EMBA) is a part-time integrated course designed to meet the needs of professionals who wish to pursue an MBA degree without interrupting their careers.
Course Location
About S P Jain Global School of Management
Key Facts
Year opened: 2004
Number of postgraduate students: 4000 alumni, 500 active students per year
Number of staff: 300
Latest rankings:
Top 100 by The Economist Full-Time MBA Rankings (2015)
Forbes (USA) Ranks S P Jain #10 in the World, Best international one-year MBAs 2015-2016
Forbes (USA) Ranks S P Jain #1 in Dubai, #10 in the World, Forbes Best International Business School Rankings 2013-2014
Financial times (UK) Ranked S P Jain in the Top 1% Business Schools in the world in 2011 & 2012
Awards:
S P Jain won the coveted Asia's Best Business School Award in 2010.These awards were conferred by the CMO Asia
Flagship Postgraduate courses:
Global MBA and Master of Global Business, that are multi-city programs with 3 semesters, 1 of each in Dubai, Singapore & Sydney
About the Institution:
S P Jain School of Global Management (S P Jain) is driven by its mission of crafting 21st century business leaders. With international campuses in Dubai, Singapore and Sydney, S P Jain has established a strong foothold in the Asia Pacific region.
S P Jain requires all its full-time students to study in all 3 campuses. This gives the School's undergraduate and postgraduate students direct experience of three very different cultural and business environments. In each city, students have the unique opportunity to interact with local industry experts, engage in projects with top multinationals and experience diverse cultural environments through structured global immersion activities.
Accreditation and Licensing:
S P Jain is registered as a Higher Education Provider in Australia. Upon graduation, students receive a degree conferred by S P Jain School of Global Management, Australia. S P Jain's world-class business courses are accredited by the Department of Education/Tertiary Education Quality and Standards Agency (TEQSA), Australia, and licensed by the Council of Private Education, Singapore, and the Knowledge and Human Development Authority, Dubai.
See all S P Jain Global School of Management courses
You may add more courses here,
your list will be saved.