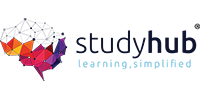 About StudyHub
Who Are We?

Our culture has evolved incessantly throughout the 15 years that make up the history of our company. Studyhub's core principles continue to be the values ​​that govern our every action. Our values ​​are central to our culture: they shape our behaviour, reinforce our customer-centric approach, and influence how we work with each other, with our learners, and with the community - all of which lead to a positive environment.

Never before have we had so many options and opportunities at our fingertips. Now it is possible to learn and grow any skills in just a few hours. Train with the most experienced instructors on the planet and organise a revolution from home through the Internet.

Why Studyhub?
Chance to get extensive training from industry expert instructors
Study anytime from anywhere at your own pace
Upskill and enhance your earning potential by completing a course and getting a CPD accredited certificate.
58 students have enrolled with StudyHub through Laimoon
Nearby Course providers in
England