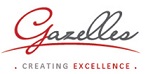 About Gazelles Management Consultancy
Established on 2014, Gazelles Management Consultancy is a team of highly motivated individuals with a combined experience of more than 150 years in Operational excellence, strategic management and Process re-engineering.

Our training programs are exclusively designed to have a practical approach to Lean Six Sigma methodologies. Our experts can prepare your professionals, to effectively utilize Lean Six Sigma methodologies and tools, to realize quality and efficiency improvements at a faster pace.
Nearby Course providers in
Business Bay