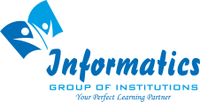 Course details
We provide excellent communicative English classes on following three levels
Foundation Level - Reading, Writing and Speaking
Intermediate Level - covers basic grammar, model auxiliaries and all tense forms and its advanced usages and this course is rich with interactive sessions and topic presentation.
Advanced level - Aims the working professionals and business men who are focusing on their advanced improvement in English. We assure you an overall development on every side of your language including reading, writing, speaking and listening. This course covers your clerical improvement (letter writing, e-mail drafting) and team meeting skills and topic presentation.
About Informatics
INFORMATICS is the only institute where you get real valuable coaching. INFORMATICS stands unique from the rest of the institutes by evidently giving you return on your investment in terms of performance improvement.
INFORMATICS seeks to improve the human condition by advancing knowledge and fostering creativity. It does so through research and education and a commitment to social justice, human rights and a sustainable environment. It values: excellence in research and scholarship, excellence in education, excellence in management, international focus, innovation and creativity, diversity, fairness, engagement, integrity, and self-reliance.
See all Informatics courses
Enquire about this course
You may add more courses here,
your list will be saved.