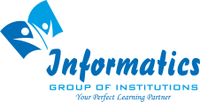 Course details
We are the leading Computer training provider in Ajman. If you are looking for a stress free, job oriented training, then you are welcome.
Standard package:
Ms word, Ms excel and Ms PowerPoint

upto 50% Discount on fees

3 to 4 days class in a week

Weekend classes also available

Flexible timing
Sharpen your skills and enhance your career with one of our bestselling programs; Microsoft Office Word, Excel, and Power Points for Advanced users. Learn new tactics and have some tips of trade that.
About Informatics
INFORMATICS is the only institute where you get real valuable coaching. INFORMATICS stands unique from the rest of the institutes by evidently giving you return on your investment in terms of performance improvement.
INFORMATICS seeks to improve the human condition by advancing knowledge and fostering creativity. It does so through research and education and a commitment to social justice, human rights and a sustainable environment. It values: excellence in research and scholarship, excellence in education, excellence in management, international focus, innovation and creativity, diversity, fairness, engagement, integrity, and self-reliance.
See all Informatics courses
Enquire about this course
You may add more courses here,
your list will be saved.