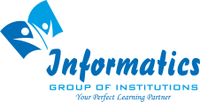 Course details
We offer English Language Course for General English Communication or Busines English Course that will improve your daily conversation and communication skills and business relations to help you participate more actively and with increased condence in meetings, discussions and negotiations held in English.
It will also provide you with more awareness of English speaking cultures and improve your cross-cultural competence.

A course to suit specific needs combining skill training with professional language development that you need to succeed with your work. It covers writing email, letters, meeting minutes and all parts of report writing; as well ass providing a progressive syllabus on the process of writing: planning, note-taking, drafting and checking. In addition, specific communication skills are focused on including negotiating and apologising.

About Informatics
INFORMATICS is the only institute where you get real valuable coaching. INFORMATICS stands unique from the rest of the institutes by evidently giving you return on your investment in terms of performance improvement.
INFORMATICS seeks to improve the human condition by advancing knowledge and fostering creativity. It does so through research and education and a commitment to social justice, human rights and a sustainable environment. It values: excellence in research and scholarship, excellence in education, excellence in management, international focus, innovation and creativity, diversity, fairness, engagement, integrity, and self-reliance.
See all Informatics courses
Enquire about this course
You may add more courses here,
your list will be saved.