Updated on 25 March, 2018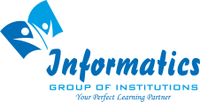 Course details
Autodesk 3ds Max, formerly 3D Studio, then 3D Studio Max is a professional 3D computer graphics program for making 3D animations, models, games and images. It is developed and produced by Autodesk Media and Entertainment.[2] It has modeling capabilities, a flexible plugin architecture and can be used on the Microsoft Windowsplatform. It is frequently used by video game developers, many TV commercial studios and architectural visualization studios. It is also used for movie effects and movie pre-visualization. To its modeling and animation tools, the latest version of 3ds Max also features shaders (such as ambient occlusion and subsurface scattering), dynamic simulation, particle systems, radiosity, normal map creation and rendering, global illumination, a customizable user interface, new icons, and its own scripting language.
About Informatics
INFORMATICS is the only institute where you get real valuable coaching. INFORMATICS stands unique from the rest of the institutes by evidently giving you return on your investment in terms of performance improvement.
INFORMATICS seeks to improve the human condition by advancing knowledge and fostering creativity. It does so through research and education and a commitment to social justice, human rights and a sustainable environment. It values: excellence in research and scholarship, excellence in education, excellence in management, international focus, innovation and creativity, diversity, fairness, engagement, integrity, and self-reliance.
See all Informatics courses
3DS Max Related Questions
Answered // 1 Response //Feb 22, 2018// Autocad, 3DS Max , Autodesk
Enquire about this course
You may add more courses here,
your list will be saved.