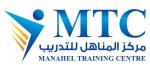 About Manahel Training Centre
MTC provides guidance for efficient, effective improvement across multiple process disciplines in an organization.

MTC provides ultimate benefit is improved performance that means decreased cost, improved on time delivery, improved productivity, improved quality, and improved customer satisfaction.

In MTC, there are specialized training options that offer something for every role and every budget.
MTC offers the best, most flexible training available anywhere and anytime you need it.