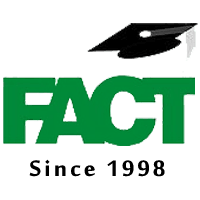 About FACT
FACT has been offering guidance to students interested in Studying Abroad since 1998 and has been recognized as a leading Overseas Education Consultancy in the Middle East. FACT provides training for SAT, GRE & TOEFL/IELTS, along with Admissions Counseling & Visa Guidance

1. Awarded "Overseas Education Consultancy of the year 2016" by Higher Education Review and "BEST Overseas Education Consultancy in India 2017" by India Education Awards.
2. Guided more than 20,000 students since 1998.
3. Students placed ranging from High School Graduates to Ph.D.
4. FACT helps students & parents in the selection of universities & the entire applications process.

Now, something about what we have to offer,

1. 2-hour Guidance Workshop for Parents on how to make the right selection of university career for their children.

2. 4 hour Mock SAT Experience for the students followed by an analytical result of their performance.

3. Scientific Aptitude Test for students to help them select the right stream of career.

Top related subjects
Top related jobs